Glasses frames comprise of three main parts, containing multiple sub-parts within their construction. Primarily, there is the frame-front and two protrusions known as temples. These main components come in many different forms and materials which have their own specific functions, styles and names.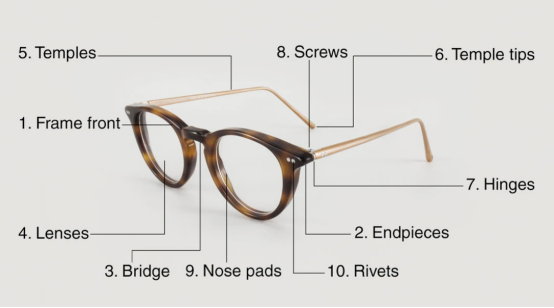 Frame front | Endpieces | Bridge | Lenses | Temples | Temple tips | Hinges | Screws | Nose pads | Rivets | Other parts of glasses
Frame Front
This is the main part of your glasses frame. It's what secures your lenses in place.
Your frame front largely dictates the style and aesthetic of your glasses, a considerable factor in how you want to put yourself across.
As you'll have seen, frame fronts vary in terms of their material, colour shape and size. They can be made from various types of material, predominantly cellulose acetate, metal or high-performance composites such as carbon fibre.
In the past times, natural materials such as bone, wood, ivory, horn and real tortoise shell were used to make the frame front and temples of a glasses frame. Since then, materials such as cellulose acetate has generally made these older materials obsolete.
Frame front types
Full rim frame fronts cover the entire edge of a lens. Your lenses are held in place using an angled recess in the frame front called a lens groove.
Half rim frame fronts are the same as full rim but their lower half is missing. This means the bottom edges of your lenses are exposed and are secured in place using a thin nylon chord called "Supra."
Rimless frame fronts are joined together via a metal bridge. Via screws, the bridge joins and secures the lenses together to make the frame front. At the edges of the lenses, the temples are also attached via screws through the outer-sides of each lens.
Frame front sub-parts
Endpieces
At the outermost edges of your frame front, are the glasses endpieces.
This is where the temples locate onto the rear side of the frame front via the hinges. Endpieces vary in size and shape, depending on the style of temples on your glasses.
Endpiece types
Full rim / half rim endpieces usually have recess on their rear-side to accommodate the hinge. This recess is called a hinge grave where the hinge locates into the frame material surface. Depending on the type of hinge, you'll often see rivets that pass right through the frame front in order to fasten the hinge.
Rimless endpieces are actually part of temple instead of the front. Beyond the hinge is another section of metal called a "lug", which is usually a bent at an angle of about 96°. The lug is then screwed through the lens to create a firm joint.
Endpiece sub-parts
Rivets | Deco rivet | Hidden hinge | Hinge graves | Hinges | Lenses
Bridge
What is the bridge on glasses?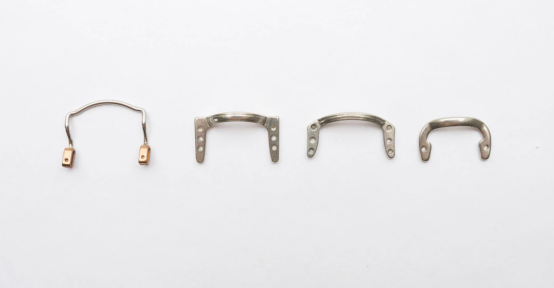 Sounds simple, but your glasses bridge is exactly that. It bridges your nose.
For facial comfort, the bridge of your glasses has two main functions. These come from bridge bump and the bridge aperture.
From above, you'll notice that the bridge protrudes slightly from your glasses frame. This is called the "bump" which creates room for the crest (top) of your nose as the glasses rest on your face.
The bridge aperture, also called the bridge apical radius, can be seen from the front of the frame. This space makes room for the majority of your nose. Without this space, your nose couldn't locate into your glasses frame.
Bridge sub-types
Regular bridges are a continuous, flowing shape which make a U-shaped slot in the frame front. This style of bridge is relatively modern and is very simple in appearance.
Keyhole bridges are a traditional style of bridge which resembles that of a keyhole. This bridge-style is generally more classic, associated with full rim eyewear design from the mid-century.
Metal bridges are used for either rimless frame fronts or for acetate "split frames." For acetate split frames, a conjoining piece of metal is riveted or screwed into the separate acetate rims to join them together.
For rimless frames, it's very much the same but the bridge is attached with screws through the lenses instead.
Bridge sub-parts
Keyhole bridge | Metal bridge | Nose pads | Pad bridge | Regular bridge
Lenses
Arguably the most important part of your glasses, the lenses are there to correct your vision.
There are many types of spectacle lenses, which were originally made from glass. However nowadays, most if not all spectacle lenses are made from types of high index plastic.
Depending on the type of frame front, your lenses are secured into your gasses using different types of friction fit. The optical term for fitting your lenses is a process called glazing.
Full rim frames have an angled female recess on the inside of the rim called a lens groove. This recess is about 1.5mm deep at an angle 120°. Cut onto the edge of the lens is a 'male' bevel which locates into a 'female' lens groove by heating and gently stretching the frame front.
Half rim frames also have a lens groove but with the addition of a Supra chord. This nylon string locates into a female recess around the edge of lens which holds it into place in the frame.
Rimless frame lenses are secure via screws into the bridge and endpieces.
Lens sub-types
Bifocal | Prescription reader | Ready reader | Single vision | Varifocal | CR39 | Crown glass | Plano | Polycarbonate | Trivex | Supra
Temples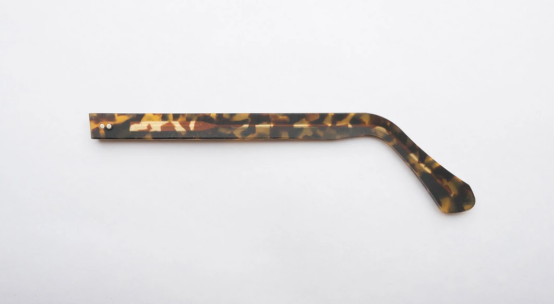 What part of glasses is the temple?
These parts of glasses have some strange names. Some call them legs, other call them arms.
The proper name for them is temples, simply because they locate on each side of your head.
There are numerous styles of temple, but their main function is to keep your glasses secure when you're wearing them.
Interestingly, temples are actually relatively modern as old-fashioned glasses didn't originally have them. Instead, these old styles of glasses without temples just rested on your nose or were held to the face via a handle.
Today, glasses temples tend to be made from acetate or metal and use what's called a drop end or a hockey end. This is the hooked part of the temple that's grips behind your ear to keep them from sliding off your face, usually at an angle of about 45°.
Glasses temples are made at various lengths to suit different head sizes and vary from 120mm to 150mm in length.
Temple sub-types
Blade temple | Curl sides | Drop end | Hockey end | Paddle temple | Unipiece temple
Temple sub-components
Frame dimensions | Hinges | Hinge graves | Rivets | Wire cores
Temple tips
What are temple tips?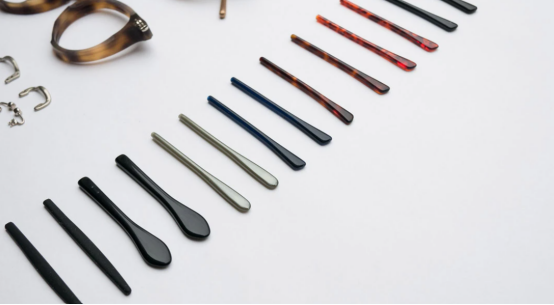 At the end of your temples are the temple tips.
These are the furthest away from your frame and are made in various iterations.
Acetate glasses temple tips are usually part of the temple itself. However, they can also be added to the end of metal temples, similar to a sock. Seen in the images above, there are different colours, patterns and shapes of acetate temple tip which can be added to a metal temple.
Metal temple tips are usually covered or coated with plastic or rubber to make them more comfortable. However, our uni-piece temple design is cylindrical in form and tapered which reduces the need for additional parts and makes them incredibly easy to wear.
Loop end temple tips are hollow loops which can be found at the end of a straight metal wire temple. These loops are to distribute pressure on the sides of your head and can also be used to attach a frame chain.
Glasses Frame Materials - PLASTIC
The options for glasses frames are never-ending, reflecting the personal style of the wearer and holding the lenses in place. Frame materials also vary depending on the prescription of the lens and each individual's needs and lifestyle, and new innovative engineering creates different options every year or so. However, we would like to describe the basic types of frame materials and what features or aesthetics they offer.The majority of frames produced today can be categorized as either plastic or metal.
Plastic
There are several options to choose from when it comes to plastic frames. Standard plastic is the most common glasses frame material and is made by injecting petroleum-based nylon into a mold. Standard plastic is the most affordable and offers a wide variety of style and color options.
Acetate
The most used material when it comes to quality designer frames is definitely acetate. A high-quality plastic originating from the renewable resources of wood pulp and natural cotton fibers. Acetate retains its color brightness impeccably over time because its hue is embedded in the material rather than sprayed on which also prevents any color peeling. By mixing different colors of melted acetate, beautiful color combinations can be created, in layers (in all directions) or in swirls, giving it a turtle look, but in every possible color. When creating a frame out of acetate, a flat sheet of the material is sawn (either by hand or CNC) into the design of the frame and then heat shaped to add curve and inclination.
Nylon
This frame material is mostly used in cheap sunglasses. Nylon is strong, lightweight and flexible, but it can become brittle with age. For this reason, it has for the most part been replaced by nylon blends – polyamides, copolyamides and gliamides – which are more durable.
TR90
TR90 was produced through Swiss technology as a thermoplastic material that is incredibly durable, flexible, and lightweight. Glasses made with TR90 are extremely comfortable because they have a flexible quality. Since they are flexible, they can bend under pressure and contour your face comfortably. This flexibility also makes TR90 glasses resilient to damage. Because the material is pliable, they are far less likely to break or bend from impact. Finally, and most remarkable of all, TR90 glasses are supremely lightweight! Even the boldest, biggest styles don't feel bulky when made with TR90. The thermoplastic material has a barely-there feel that you truly have to wear to believe.
Ultem
ULTEM resin is a flame-retardant, high-performance thermoplastic. It features a high strength-to-weight ratio, excellent heat resistance, and high impact strength. This material is ultra-lightweight, durable, and heat resistant up to 400⁰. Ultem frames can weigh only 1/3 of the weight of traditional plastic or metal frames.
Glasses Frame Materials - METAL
Titanium
One of the most important aspects of keeping an eyeglasses frame is its durability. No matter how carefully you use your eyewear frames, they are bound to break or fall. Most eyeglasses are made up of metal and plastic materials which are commonly used in the manufacturing of eyeglasses frames. But these materials can deform easily if used for a very long time. People started choosing titanium material over metal and plastic in eyeglasses because these frames can be bent and twisted and then come back to its original form. The quality of these frames is durable and reliable for rough use also. People who opt for titanium frames also do not have to be bothered about carefully handling them as these are impact-proof.
As compared with regular metal, titanium is one of the lightest and most preferred materials used in the manufacturing of eyeglasses frames. These titanium frames can be easily worn with a lot of comfort and relief while playing games, jogging or running. With no maintenance required for these frames, it is surely one of the best materials especially for eyeglasses frames.
Memory Metal / Flexon
This is a titanium alloy composed of roughly 50% titanium and 50% nickel. Frames made of memory metal are extremely flexible and can be twisted or bent to an extreme and still return to their original shape. This feature makes memory metal frames great for kids or anyone who is hard on their glasses.
Beta titanium
This is an alloy of predominantly titanium, with small amounts of aluminum and vanadium. These other metals in the alloy make beta titanium more flexible than 100% titanium for easier fitting adjustments. Beta titanium has memory features and is mostly used in high-quality designer frames. Due to it toughness and low weight, it can be used to create thick looking frame fronts as well as ultra-thin eyewear temples.
Monel
This popular, inexpensive material is an alloy of nickel and copper. It is less costly than other metals, but – depending on the quality of the plating used – Monel frames may or may not discolor and cause skin reactions over time. Many low priced metal frames would be made out of Monel.
Beryllium
This lower-cost alternative to titanium resists corrosion and tarnishing, making it an excellent choice for anyone with high skin acidity or who spends a good amount of time in or around saltwater. It's also lightweight, strong, flexible and available in a wide range of colors.
Stainless steel
Stainless steel frames and surgical stainless are an alternative to titanium. Qualities of stainless steel frames include lightweight, low toxicity and strength; many stainless steel frames also are nickel-free and thus hypoallergenic. Stainless steel is readily available and reasonably priced. It's an alloy of steel and chromium, which provides excellent resistance to corrosion, abrasion, and heat.
Aluminum
The most abundant metal in the earth's crust, aluminum is a lightweight option for eyeglass frames. It is the most widely used non-ferrous metal in the world. In addition to its lightweight, aluminum is also highly corrosion-resistant, soft, and durable. Aluminum is also 100 percent recyclable. Aluminum can bend and be slightly less durable than other materials.
Gold
Dense and shiny, gold is the most malleable metal on the planet. Because of its high cost, it is used sparingly in the manufacture of eyeglass frames. Worked into stunning silhouettes in some high-end eyewear collections, it is also used in more moderately-priced lines as an accent or plating.
Silver
Solid silver or sterling silver is not used commonly as a principal frame material because it doesn't make very wearable or comfortable frames. Sometimes silver is used as a trace element in metal alloy frames and often provides a jewelry-like accent on plastic frames.